Social media is changing how you can work from home and create an income on your terms. We're outlining the best side hustle ideas and at-home jobs in 2023 below!
We also did a full podcast on the best ways to make money online that you may like!
You may want to review our guides on branding, Facebook, and Instagram to grow your online platforms to make these side hustles more lucrative.
While you may read some articles talking about selling your hair or donating plasma, we're keeping this list pretty online-based. You may need basic social media skills or read over how to start a blog to get a few of these side hustle ideas going.
27 Best Side Hustle Ideas and At Home Jobs in 2023
We've sorted most of our best side hustle ideas to include 5 categories:
Buying & Selling Physical Goods Online
Creating & Selling Digital Goods
Building a Platform
Services
Outside the House Hustles
Buying & Selling Physical Goods Online
The first type of side hustle ideas are to buy something and then resell it.
Poshmark is the top app when it comes to buying and selling clothing. It's like an online boutique and consignment shop in one. They charge 20% commission and $6.79 to ship. Sometimes there are discounts on shipping either by Poshmark or by the seller.
It's a great way to earn some mad money too. I earned $1300 on Poshmark just by cleaning out my closet!
You can sell wholesale on the app too though, and you could always buy clothes cheaper on eBay or a thrift store and resell them.
2. Facebook Marketplace or eBay
If you're into redoing furniture, up-cycling products, or collectibles, you may enjoy finding cheap items on Facebook Marketplace and eBay and reselling them after you've fixed them up.
Social media guru and NY Times bestseller, Gary Vee suggests that every online entrepreneur start here. Now, I'm not sure if it's right for everyone – but it can be a great side hustle idea you can do while working full-time.
You can also shop Gary Vee's books on Amazon for more ideas.
The cool thing about Shopify is that its a comprehensive e-commerce platform. This means it has everything to help you get started online, grow your business and market yourself.
You can also move an existing business to Shopify! Unlike Poshmark, Facebook Marketplace, or eBay you will be focused on new goods or unique up-cycled products on Shopify. It's mostly used for online stores and retail point-of-sale systems.
If you enjoy making jewelry, t-shirts, or crafts, you may find you love Etsy. It's an online platform for handmade or vintage items and craft supplies. You could also start an embroidery business on there!
It's also widely known and shopped so you would benefit from that. Like Poshmark, people are already on the platform and can see your goods just by searching versus you creating a platform.
5. Drop Shipping Products
Drop shipping is where a retailer doesn't keep goods on hand; they transfer orders and shipment details to either a manufacturer, another retailer, or a wholesaler. Then that company ships it to the customer.
You don't have to invent a product to add your label to it. We have a friend that found a wholesaler to create her private label makeup line. Not only is it a source of income for her, but it's also built in her creditability as a makeup artist and hair stylist.
Drop shipping has made it easier to create and ship private label goods, but this is still a more intensive process than anything else we've shared.
Creating & Selling Digital Goods
6. Ebook
You can now self publish on Amazon or sell an ebook you create with software like SamCart.
We've sold a 7-Day Sugar Detox just through our social media and blog using SamCart. It was easy to create and set-up. If you're unsure about how to make it look professional, you can always hire a graphic designer off Fiverr even on a low budget.
If you're looking to monetize writing a book, you could also sell it right on Amazon. You get to keep up to 70% of the royalties!
7. Create and Sell a Blog
While you could start a blog for your personal brand and make money that way, you could also start a very specific niche blog to sell.
The idea is to pick out a topic that you think is growing in popularity. For example, something with Keto in it would have been great to buy in 2017 before the fad diet caught on. You would write high-quality content on the topic, and then you could turn around and sell the blog to someone else.
Like drop shipping, this idea can be a little more intensive.
If you're considering blogging, you may also like our post on the 17 Things We Wish We Knew Before Starting a Lifestyle Blog and our tell-all on How Bloggers Make Money!
8. Design Courses
Whether you're an elementary school teacher with a special way of teaching kids to read or a pro at Instagram, you could create a course around your knowledge.
There are all kinds of platforms for courses now too. The best advice we have on courses is to make sure you get as specific and unique as possible since there is so much competition in the marketplace now. With that said, you can create a great income from courses.
The 3 that I know of are Kajabi (nice but pricey!), Teachable, and Udemy. Zapier also put together a good list of course platforms.
Most platforms don't require you to be super tech-savvy and some even include a shopping cart for people to buy from you!
Building Your Own Online Following
9. Affiliates
If you start a blog that is getting decent traffic, you can review items or share products you like using affiliate links. We like to use SheisMedia and Rakuten Marketing mostly.
10. Ads
If you decided to grow a blog and are receiving a good amount of traffic, you can apply to an ad network like Mediavine. They do all of the coding and heavy lifting on ads, and you just reap the benefits of having the ads on your site.
11. Sponsored Content
You can also feature sponsored content (as long as you share that it's sponsored work) to make extra income online. If you have a blog with good traffic or a social media account, podcast or Youtube channel with a good following, you may be able to pitch brands or apply for companies that connect content creators with brands.
Some Companies are:
12. Sponsored Instagram Posts on a Theme Account
A themed Instagram account is an account on a specific topic with curated content. You can develop a themed account pretty quickly because unlike personal brand Instagram accounts, you can share more often (up to 6x a day even!).
An example of a themed account would be homeworkouts_4u. They only feature other people's home workouts and tag them. Now that they have a big account, they could target companies offering home workouts and charge a pretty penny for a sponsored post!
Not sure what to charge? Check out Social Bluebook for pricing ideas!
13. Influencer or Brand Ambassador
Another approach to sponsored content is to develop relationships with brands and collaborate with them often. You could choose to be an independent contractor with them, an affiliate, or even swap posting about the product on your social media for free product.
14. Network Marketing
Network Marketing is actually how we got started back in 2011! We started Beachbody Coaching after falling in love with their workouts and supplement line.
We ran monthly challenges to help people try the product and get results. Some of those people decided to join our team as a coach. Then we mentored them. This is still a large part of our overall income today! We also still work with people and have developed many friendships through network marketing.
The main thing if you're going to get into a network marketing company is to do your research and still lead with YOUR brand versus their branding.
We love Beachbody products so it was easy to share about, and they also offer 25% commission to every rep which we love. (Most network marketing companies have a stair-step commission).
Services
15. Group, 1-on-1, Accountability Coaching
Coaching someone or a group of people can sound intimidating – well, it did to me anyways. Now, my mom and I have helped coach over 4,000 people in their health goals and several hundred in their online business goals.
If you have expertise in any field and the ability to work with people even when they want to quit – coaching could be an amazing opportunity for you.
Sometimes people even know what they need to do and just need an accountability coach texting or calling them at a set time to keep them on track.
16. Membership Group
A few years ago, I launched a course called Master Blog Academy. It had everything you could possibly need to start, build and grow a blog in any niche. I was so proud of it and poured so much time into it.
The thing is – blogging techniques, tools, and plugins change pretty often. Of course, there are some staple lessons – but a lot is an on-going learning process. Especially since some bloggers focus on social media to grow their audience; as you know, social media changes all the time.
So the course was constantly having to be updated and eventually I stopped it all together. It was such a letdown.
BUT — this course would have been an amazing membership site people pay for each month. Unlike a course that can be in the hundreds or even the low thousands to buy, a membership course can be under $50 a month, and you just add content and lessons to it each week or month.
A membership site is great if you know you can always add new content to it like the blogging example.
17. Teach English Online
I had a friend from high school reach out to me about network marketing after seeing I had been successful with Beachbody. She knew I was shy and quiet, and if I could do it, she could too.
It ended up not being a good fit for her, but we kept talking until we found something she did like to do that would allow her to stay at home with her kid. She was teaching at a local school at the time, but you don't have to have an education background to teach English online.
Now, she teaches English online before her kid gets up in the morning! You can learn more about the companies you can go through here.
18. Tutoring via Zoom
Similar to this idea, you could also tutor using video software like Skype or Zoom. My mom and I both taught high school level math (her more so than me), and I have no doubt we could open a tutoring business any day of the week.
You could start your own company or go through an online tutoring company. Your own company would give you the ability to hire other tutors and name your price, but you would also have to build up your brand and reputation, as well as, know a little more about accounting, taxes, and liabilities possibly.
19. Proofreading or Editing
If you have a strong vocabulary and grammar skills, you could become a proofreader! You could offer your services on a platform like Fiverr or Upwork, or you could go through a company.
Did you know, one source says you can even earn up to $36,000 a year proofreading online? Pretty dang cool!
You can see the source and find out who hires proofreaders here.
20. Seamstress
We have a neighborhood seamstress that always has some work going on. I don't know if this could pay like the other jobs unless you made it into a business with multiple seamstresses, but it's a great way to make mad money in your spare time.
Other At Home Side Hustle Ideas
21. House or Dog Sit
This is how I earned almost all of my mad money in college. I was a double major, and I just knew a regular job wasn't going to work for me.
Even with apps popping up like crazy for dog walkers and errand runners, people still have a hard time finding someone trustworthy to watch their house or pets. You can pretty much set your price, and I found that a lot of families would continue to use me over and over again. Not only was that nice income wise, but it was nice because I learned their house and pets. This helped me feel more at home while they were gone.
22. Rent a Room
If you have an empty room, you could rent it out on Airbnb or search for a company that connects people looking for rooms with people renting in a specific industry.
I realize Airbnb may be a little intimidating to rent out a room. If you're not sure about that – try researching something like "Rent a room to a medical student" and see if that's a better fit.
23. Voice Over AudioBooks
If you have a great voice, you could put it to work by narrating audiobooks. ACX outlines the steps and how the industry works here. You'll need a microphone and headphones as well.
24. Freelance Work
Freelancing has never been easier thanks to social media and companies that connect freelancers to jobs. 2 companies we've used are Upwork and Fiverr.
You can also find virtual assistant and freelance jobs inside Facebook groups a lot of time. Just make sure to follow their group's rules. One of my favorites is Virtual Assistant Savvies.
Best Side Hustle Ideas Outside the House
This has to be the most known side hustle out there, right?! It's a great way to set your own hours, meet people, and see your city though! You're also going to receive money for each trip you do!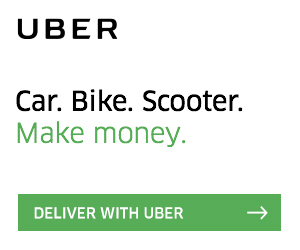 If you're not sold on the idea of driving around people, you could just deliver their food. You set your hours and use your car.
UberEATS allows customers to order food from local restaurants, and you as the driver earn a generous commission for delivering the food.
You do have to do a background check before being approved.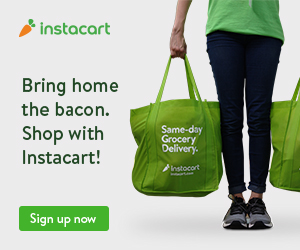 27. Get Paid to Grocery Shop with Instacart
We've used Instacart a few times as consumers, and we're hooked! Customers log on to the site, pick their groceries, and then Instacart Shoppers pick up the list and deliver it. Instacart pays the driver a little and customers can also tip.
The option to tip is listed when the customer orders and after the order has been delivered. So you have a few ways to earn a little more!
Wow. This post ended up being a lot longer than I had planned.
Did you find our best side hustle ideas and jobs helpful?
You may also like our podcast – The Kim and Kalee Show Podcast
Love these ideas? Repin them for later!