Is that gap in your teeth making you self-conscious? The good news is you don't have to go through the hassle and expense of braces anymore! There's no reason to hide your smile when you can fix your teeth from the comfort of your own home! Smile Direct Club and other popular brands make it easy and affordable to fix gapped teeth at home without the need for braces.
Having a gap in teeth is called diastema, and there are several causes for it. Diastema is mostly common in children's baby teeth, but adults can also have it. If you have gappy teeth there is most likely a mismatch in the size of your teeth and jaw bone. This is often hereditary.
Thumb sucking, tongue thrusting, or poor dental hygiene which leads to issues with the gums (like gum disease) could also be the cause of the gaps.
The good news is, that depending on the size of the gap, you may be able to fix gapped teeth at home without metal braces!
It's always best to consult a skilled professional like a dentist or orthodontist about any of these options.

Do braces close a gap in teeth?
There are several ways to close gapped teeth, but braces are probably the most known way to close gaps. In severe cases of teeth spacing or issues with the roof of the mouth, your dentist may recommend braces over at home options aligners. However, many people are able to fix gapped teeth at home using invisible aligners. This option saves you up to 70% off orthodontic clinic, and it's also more convenient because you don't need in-office appointments.
At Home Aligners
If you want to fix gapped teeth at home, clear aligners like those offered by Smile Direct Club, are a great and effective option! They are comparable to Invisalign, but the are up to 75% cheaper! That's why we're considering them the best way to correct even large gaps at home!
Smile Direct Club Review
With the help of Smile Direct Club, you can fix your gapped teeth at home without the need for monthly dentist office visits.
In fact, you can get the kit and straighten your teeth at home without ever setting foot inside a dentist's office, if you want.
Smile Direct Club provides you with custom tooth aligners that gradually straighten your teeth each time you wear them.
With the help of this at-home treatment, you can start seeing results in as little as 60 days.
The aligners also come with a lifetime guarantee, ensuring your gap never comes back!
How does Smile Direct Club Work?
Smile Direct Club is 3 simple steps:
1. Dental Impressions
The process starts with taking dental impressions of your teeth. You can visit a nearby office to have a 3D image scan of your teeth. Or the company will ship an impression kit to your home. Just follow the instructions in the kit to create an impression of your teeth, then send it back.
2. Custom Plan
After the initial scan or impression, doctors will review the information, along with your past medical history, to create a treatment plan. The plan will include a series of aligners that will help gradually move your teeth until they're straight.
After the plan is set, your treatment process starts with the aligners being shipped directly to your home. After that, you'll have regular virtual check-ins with your doctor and 24/7 access to the dental care team if any problems arise. You can also track the progress of your program at home using the Smile Direct Club app.
3. Wear Your Clear Aligners Daily
One of the great parts about this program is that you can use the aligners according to your schedule and lifestyle. If you want fast results, you can wear your aligners up to 22 hours every day. But if you don't mind waiting a little longer for your teeth to straighten, you can choose wear your mouthpiece just 10 hours each night.
In addition to helping you fix your gapped teeth at home, this program also has a variety of other great benefits, like:
Fast results at home. The technology and innovation used in the Smile Direct Club aligners allow you to straighten your teeth in four to six months. And since your progress is monitored regularly, your doctor can easily make adjustments to your treatment to help speed up the process, if needed.
A low cost alternative to braces. You can get a treatment plan for less than $2,000, which is a fraction of the cost of traditional braces. And with the payment plans, you can straighten your teeth for less than $100 per month.
State-licensed dentists and orthodontists on call 24 hours a day. You can reach out to a licensed doctor at any time during your treatment, and you'll have regular online visits to discuss your progress.
Lifetime guarantee on the treatment and aligners. If you're unhappy with your treatment, you can receive a refund within the first 30 days. And if your aligners need adjustments or repairs, they'll ship you a new one for free.
SmileDirectClub is in full compliance with FDA regulations.
How much is Smile Direct Club?
Smile Direct Club is either $1950 if you do their one-time payment option or $2564 if you choose to do their SmilePay monthly payment plan which is $89 a month for 26 months with a $250 deposit. Some people may be eligible for coverage from their insurance as well. Their retainers are $99 a set.
They have an Insurance page to find out exactly how much could be covered.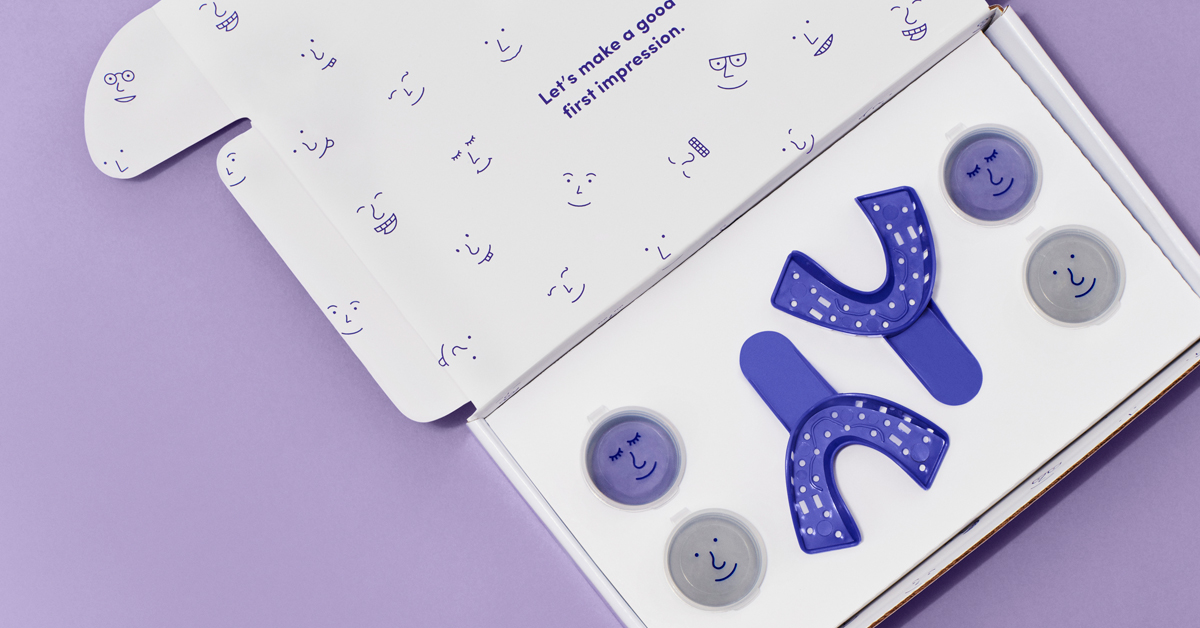 Is SmileDirectClub worth it?
If you have minor to moderate issues with gaps, crowding, or rotations in your smile, Smile Direct Club is a more affordable, convenient option compared to traditional braces.
Smile Direct Club vs Invisalign Treatment
Another at-home treatment option for gapped teeth is Invisalign. Like Smile Direct Club, this program uses aligners to help straighten your teeth over time. But while Smile Direct Club allows you to complete most of the process at home, Invisalign is typically prescribed by your regular dentist.
With Invisalign, you start by meeting with your doctor to discuss your treatment options. During your initial visit, you can get fitted for your aligners using a 3D scan of your teeth. Your doctor will send the scan in to have custom aligners made for your teeth.
When your aligners arrive, you'll need to return to your doctor's office to check the fit of the mouthpiece. After that, you can wear your aligners at home each day to help straighten your teeth.
Regular doctor check-ins will help your dentist track your progress and pick up new aligners as you need them.
Teeth Gap Bands
If you're looking for a more cost-effective method for fixing a small gap in your teeth, Teeth Gap Bands might be a good choice. These dental bands wrap around the teeth and pull them together while you sleep.
Just wrap the band around your tooth gap with your index finger and thumb before you go to bed. Wear the bands for 12 hours each night to gradually close the gap.
While this option is a good choice for small gaps, some dentists warn against possible gum damage if the band slides up around the gum while you're sleeping.
More Orthodontic Treatment or Cosmetic Dental Treatments
If you are open to seeing a dentist, there are a few ways to get rid of gapped teeth besides braces or aligners.
1. Porcelain Veneers or Crowns
Dental veneers or crowns are a quick fix, cosmetic approach for treating small gaps in their teeth. The dentist uses a composite bonding to cover the gap between your natural tooth or teeth. This composite material is a quick fix to a gorgeous smile. You can have your gap covered in just around 2 dental appointments!
Once the veneer is bonded to your tooth, it becomes strong and difficult to break; however, the bonding material can discolor and become weak over the years. It can also be expensive.
Veneers vs Dental Crowns
A veneer is a thin shell that goes on top of the front your tooth whereas a dental crown is designed to cover your whole tooth. A dental crown is used to correct damage caused by trauma or decay.
2. Dental Bonding
Dental bonding is another fast fix, and it's cheaper than veneers. Cosmetic bonding is used mostly to repair chips or gaps in teeth. The dentist applies resin to your teeth to fix the chip or gap, and then it's hardened with a special light that "bonds" it to your teeth.
The procedure usually only lasts around 10 years and requires maintenance.
3. Dentures
While fixing gapped teeth at home sounds like a far better alternative, you could always get partial or complete dentures. This option is pretty extreme to fix a gap though and really only for those that have had several teeth removed.
4. Dental Implants
If you have a foot-tooth wide gap, you could also consider removable implants. This is an artificial, enamel tooth that is inserted into your gum or bone and requires dental surgery.
The success rate for dental implants is 98 percent, but they are weaker than natural teeth.
To Summarize
While there are many different options on the market, the best choice to fix gapped teeth at home in our opinion is invisible aligners.
We have seen people get excellent results with Smile Direct Club, and it's more affordable and convenient than getting braces, veneers, dental bonding, or dentures.