We look at how Les Mills Smart Tech equipment is different and if it's really more convenient and high-quality than other brands. We review the Les Mills Smartbar, Smartstep, and Smartband.
After a few BODYPUMP classes, we started eyeing Les Mills equipment. While the at home workout equipment could be used for any workout, it's perfectly designed for a Les Mills+ class junkie like ourselves.
We were not paid for this post, but there are affiliate links below. With that said, we are proud to be Les Mills partners and only share honest reviews.
Know you want Les Mills equipment like the Smartbar or Smartstep?
CLICK HERE & add the promo code SMARTTECH5 when you checkout for a discount!
What are Les Mills Classes?
LES MILLS classes are high-quality, highly-effective fitness programs that are taught all over the world. They also have an at home streaming option, Les Mills+ (formerly Les Mills on Demand) — which we love!
Popular programs include BodyPump, BodyCombat, BodyBalance, BodyAttack, Core, Sha'Bam, and RPM (cycling). They also have excellent HIIT and Barre classes.
We've reviewed Les Mills+ when we started using it — grab the review here or a free trial when you use our partner link here!
How to Subscribe to Les Mills on Demand
Subscribing to Les Mills+ is super easy! You sign up for the free trial, download the app to your smartphone, tablet, or TV streaming device.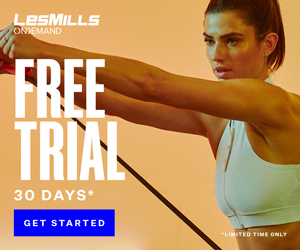 How much is it?
It's less than $99 a year after the trial if you opt-in for the annual membership, and you get access to 100s of unique workouts!
You can cancel before the trial is over and pay nothing. But we know you'll love it! (It's $14.99 a month if you choose the monthly option).
What is Les Mills Smart Tech?
Les Mills Smart Tech equipment is marketed to be perfectly tailored to activate your muscles better during each of your Les Mills classes.
Les Mills equipment includes the:
Smartbar with weight plates,
Smartstep,
Smartband with 2 resistance levels,
Bike,
exercise and yoga mats,
and other accessories like resistance bands.
They have bundles as well, and these are discounted and include Les Mills+ for free for 6 months!
But we wondered — does Les Mills equipment really make a workout more effective and enjoyable?
The short answer — Yes!
Les Mills Smart Tech is versatile, durable, and super easy to use!
We especially love how easy it is to change the plates during a BODYPUMP class.
They also say Smart Tech could help you get better results — and we agree with the idea because the equipment is designed to help you increase muscle activation while maintaining good form.
You also can get 6 months of Les Mills+ when you purchase an Les Mills equipment bundle, and many orders qualify for free shipping!
Is Les Mills Equipment for the Gym or at Home?
Les Mills Equipment is used globally at thousands of gyms, but it is priced where someone could buy it for their personal use as well.
Is Les Mills Smart Tech Equipment Worth it?
While Les Mills equipment is an investment, the quality and convenience of it is unmatched.
You can use the equipment for 100s of different workouts including cardio, strength, and flexibility training. The pieces are all high-quality and designed with workouts in mind.
Plus, you get a trial period and a warranty on many of the items. They also offer a payment plan through Klarna.

If you've struggled to create a home gym you love, we highly recommend a bundle option. It'll save you so much time and frustration!
Plus, you'll look forward to your workouts versus dreading trying to switch weights or make your old bench work as a step.
What's the Best Les Mills Smart Tech Equipment?
If we could only pick one Les Mills piece of equipment, we'd choose the Smartbar.
This is for the simple reason that we love BodyPump, and it's made such a big difference in the workouts! It's easy to change the weights out, and it fits well on our shoulders. We also love that you can remove the weighted plates and use them for certain moves easily.
The next piece we'd pick is the Smartstep because you can use it as a bench for BodyPump and for a step in other cardio workouts!
How heavy is a Les Mills Smartbar?
The Les Mills Smartbar is 5.82 lbs on its own.
What makes the Les Mills Smartbar great?
The Smartbar is super user-friendly compared to a traditional barbell.
The biggest difference is that you don't have to use clips for the weighted plates! This saves so much time when you need to change your weight. The Les Mills weighted plates slide into a "gator" claw easily and stay put while you're lifting!
We also love that the plates are square versus round! This design not only keeps them from moving around when you place it down, but it works better for your hand-grip!
Speaking of hand grip, the hand portion of the bar has gripping on it as well. We personally use weight-lifting gloves, but we've seen several people just use the gripping portion on the bar.
The bar is also around 5 lbs on its own so it's a great tool for a warm-up, and we also have to say it's awfully pretty sitting in our home gym!
Does the equipment only work with Les Mills workouts?
No, Les Mills Smart Tech can be used for any type of workout! We've used their equipment for several different types of workouts that weren't on Les Mills+.
Les Mills Smartstep Review
The second piece of Les Mills Equipment we'd invest in is the Smartstep.
We absolutely love that the risers are attached to the bench. You can easily use it just as a step or use the risers to make a bench.
If you do a lot of BODYSTEP or step aerobics classes, the Smartstep may be a better fit than the Smartbar for you!
It's also very sturdy!
Les Mills Smartband
The Smartband is something we've not tried before, but it does spark our interest because it doesn't look flimsy like a lot of other bands.
We love the grip handles and that you can easily make it more or less resistance by placing it differently.
It'll be great for Les Mills CORE classes, but it can also be effective in non-Les Mills classes and perfect for traveling too!
How much does the the Les Mills Smart Tech equipment cost?
Les Mills equipment is definitely an investment, but it's something you can use forever.
The Smartband is under $50, the Smartstep is under $200, and the Smartbar is under $500.
The equipment includes a 30 day trial and free shipping on orders over $400. You can also save 5% when you use our link and enter SMARTTECH5 at checkout.
Les Mills Smart Tech Equipment Coupon Code
Shopping for a deal? Use THIS LINK and use the coupon code SMARTTECH5 to save 5%!
Don't forget the bundles include a 6 month trial to LES MILLS+ too!
Not sure? Try LES MILLS+ workouts free for a limited time!
Other Les Mills Guides & Reviews